About us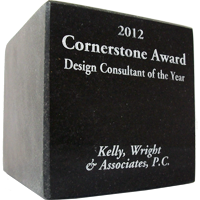 Kelly, Wright & Associates, P.C. (KWA) is a Tucson-based professional mechanical engineering consulting firm owned and managed by senior design professionals. As a full-service mechanical engineering firm, KWA has extensive experience in the design of HVAC, Plumbing, and Fire Protection systems for all types of facilities. Established in 2000, the Firm has a history of over one thousand successful projects in Arizona, New Mexico, and California. The firm has also provided engineering services outside the United States in Argentina, Chile, Guatamala, Kuwait, and Mexico.
The firm maintains two registered Mechanical Engineers (with registrations in both Arizona and New Mexico) and one of the few consulting professional Fire Protection Engineers in the State. Two of the principals of the firm have achieved LEED AP certification. Unique in mechanical engineering firms, KWA offers complete fire protection system designs, including hydraulic calculations and shop drawings.
The KWA team excels in all areas of mechanical engineering design and all forms of project delivery methods. The Firm's experience includes multiple LEED projects and everything from audits and life cycle reports to construction administration services. No matter how large or small a project may appear, KWA strives to provide technically sound, sustainable, and creative solutions to the Client's needs in an ethical, timely, and professional manner. The employees and principals take pride and personal interest in each and every project. Direct principal involvement in every project is guaranteed. From pre-design services through final project close-out, at least one of the Firm's three principals will be involved.
KWA maintains a policy of continuing education to stay current on technology in the industry, design techniques, and software to allow us to provide options to best fit your project. We utilize the latest versions of both AutoCAD MEP and Revit MEP (part of the Autodesk Building Design Suite). All LEED calculations are done in-house, by a principal of the firm, utilizing one of several software packages.






KWA's commitment is to provide clients with the highest level of quality possible with an emphasis on service before, during, and after design and construction. We have built our reputation on a foundation of technical expertise providing sound, successful designs that are the proper blend of function, aesthetics, and cost management. Our goal is to continue to create and maintain long lasting relationships and continue to contribute to the quality of the built environment.